salam dan selamat sejahtera. sari berita hari ini adalah....weh izzy dah2 merapu tu. straight to d'point je trus...hehehe.
seperti yg u all tau @ yg xtau tu, thn ni adlh thn trakhir izzy di UTMKL. actually nama dah tukar jd UTMIC tp izzy lg suke dgn name UTMKL. Dah jadi adatlah kan bile waktu2 mcm ni smua nak feeling2, nak sedih2, ialah nnt ntah jumpe lg ntah tidak. so trmasuk lah izzy pun sedih gak.
masa study week izzy xsedih lngsung cume izzy mule rase sunyi sgt. mcm izzy lost my other half. mmg rase kosong ati nie. izzy pkir myb coz kuliah dah xde yg dah jrg jumpe bdk2 course.
lps abis exam izzy hangout dgn my 2 besties ever in UTM. taufek & haniff. izzy gi TS, Low Yat, Sg. Wang & KLCC wit them. we go karaoke and eat and laugh and gaduh2 manje. hahaha. its really fun. itu adalah hangout kami yg trakhir. sedih sgt bile ingat balik.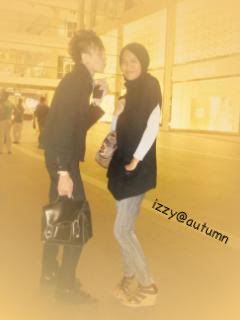 Izzy wit Topex (xoxoxo)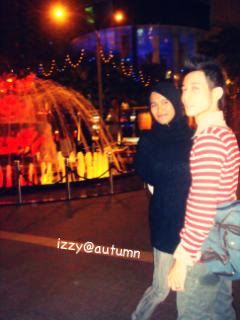 Izzy wit Haniff (love u darl)
On 22 April we, Urban & Regional Planning had a Portfolio day!!! during tis day year 1 - 3 student show their final project to invited people such as Planner who has his own firm in KayL & others. this final year izzy & frendz had to do Rancangan Tempatan for MPKj. It such a hard work wit a very limited time. But at the end of d'day all of us feel so happy coz all people who came to see our work said we did a GREAT job!!! warrrggghhh!!! all d'tension is gone to hear tat okay!.
At night we had our pra graduate dinner for izzy & all thrid year students. we had a great time tat night such as taking pic wit all the lecturers, taking pic among us, has a slideshow of all our pic s from first year till third year. izzy feel so sad during tat slideshow coz tat show remind me of all great memories izzy had wit all izzy's frendz during tis 3 years in UTMKL.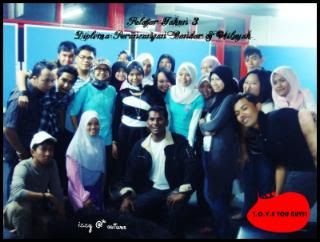 Pic taken wit Mdm. Salisa, Miss Azreen, Miss Intan & Mr. Gobi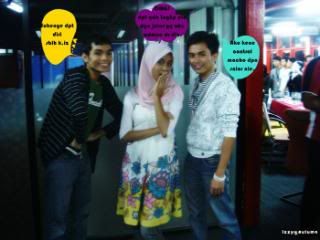 Pic taken wit best jnior (akmal & sufi)
Last day on Sunday be4 izzy going back home izzy meet wit topex for d last time & izzy cried there. izzy couldn't stand longer so we had a good kisses for d'last time(cium pipi je tau). but izzy quite dissapointed lah coz xdpt jumpe haniff. izzy just call him & izzy cried also when izzy on d'phone wit haniff. but izzy turun kayL balik on Tuesday & dpt jumpe haniff di KLCC for a while. we separate at LRT station bcoz izzy need to go to Bukit Jalil & haniff need to go to Setiawangsa. Be4 we separate we had a goodbye hug & kisses.
My last word is thanks guys for the great memories we had and izzy really appreciate the time we had togethers! To all 3 yr DDN students izzy hope u all will get watever u want in tis life (yp jgn tamak plak).
*p/s : izzy will make sure tat izzy takkan lost contact dgn diorg.