Salam to allz!!! last week izzy & family going for dinner at Johnny's Restaurants and we ate steambot. Afta tat izzy went to bookstore & make my mum buy two books for izzy. myb u allz thinks izzy bad right but all d'books in tat bookstore are 50% off otei. so izzy grab LOVE NEST by Julia Llewellyn & TO KILL A MOCKINGBIRD by Harper Lee. (thanks mum for tis books)
tis novel was about complicated relationship between couples, family & friends.Its all about how all tis people want to save their relationship, how to get up & move on when something bad happen to them, their journey on searching Mr. & Mrs. Right, and how they learn to look the present & not only looking their future. izzy give this book 4 stars coz the readers have to read it very careful coz there is many characters in tis novel.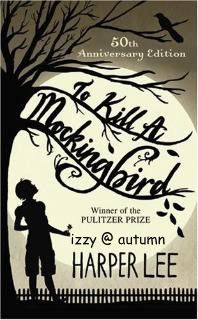 izzy think many people out there know bout tis novel. Tis novel just celebrate its 50's anniversary day tis year. Tis novel is about 2 kids : Jem & Scout trying to learn about d'outer world with the help from their father and some of their neighbors & friends. Tis book were writing during the white still can't accept the black people & think they are bad. Tis 2 kids learn to think wat is d'best for them, learn to trust people who they don't trust before and learn how they should be careful wit this outer world. izzy give tis novel 5 stars coz Harper Lee has done a great job!!!
izzy really like to read books especially english novels. izzy think when u read a book u can gain many knowledge and u can imagine how the characters on tat book look like. its more fun than watching a movies izzy think. so till then...xoxoxo
*p/s : thanks mum for make me fall in love with books!!!